Photographs and text by Misper Apawu
Women still encounter various forms of stereotypes wherever they find themselves, and sports is no exception. The 11 amazing Ghanaian athletes pictured here are challenging and overcoming these barriers to excel in their various fields. They represent women in sports who live with courage, enthusiasm and positivity. This photo essay seeks to encourage and pave the way for girls and women facing barriers in playing sports to move away from fear of being stereotyped and bring out the champions within.
Fairuza Osman, 21, a national athlete says looking at the progress she's made is a huge motivation, and that nothing can stop her. "A stranger once asked me if I couldn't get any sporting activity to be part of rather than boxing, because I was too beautiful for that," unsolicited advice that she quickly ignored, she said. It wasn't easy to break the news to her parents when she started training as a boxer. "I was scared my dad will stop me from boxing. But I convinced him, and he gave me the go ahead," she recalls. "I'm feminine outside the ring but I'm sporty and aggressive in the ring. My advice is to think about your goal and just work hard and above all be discipline," she explained.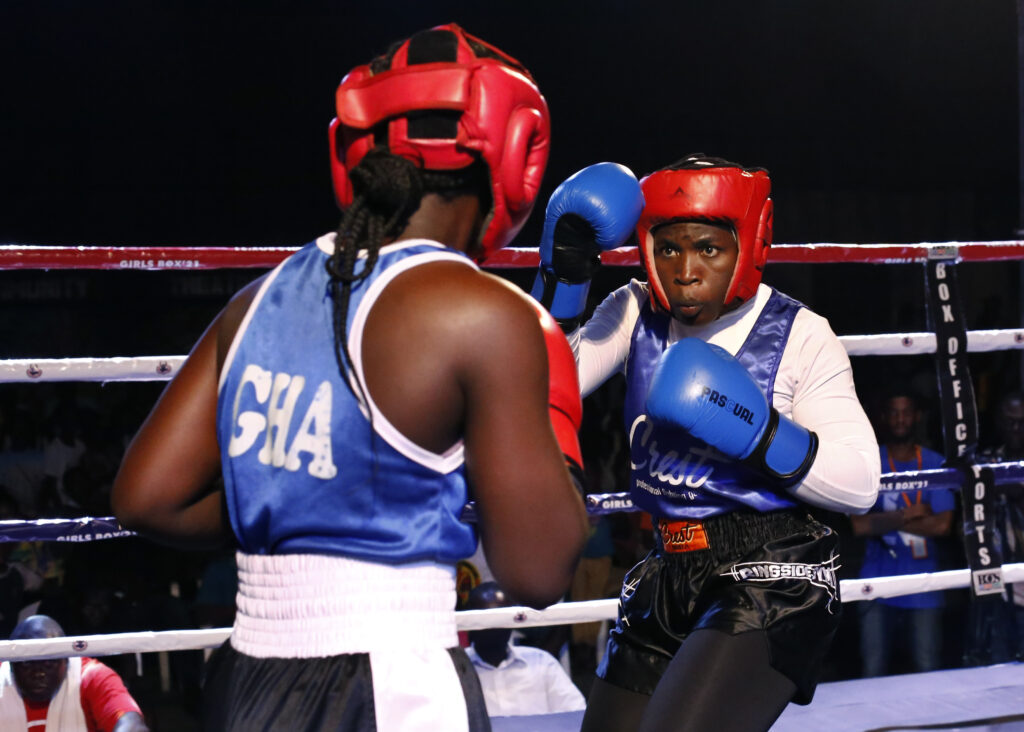 –
Belinda Ayeley, 25, has been playing rugby since 2017. She is an amateur player with hopes of turning pro. She's been told on countless occasions that sports are for men and women are to concentrate on getting married. "Because my siblings focus so much on academics, my dad has been saying I'm useless, and he still says that all the time. My responses to him have always been to watch out for me and at the right time everything will be perfect," she said.
She believes the world will be a better place when people stop stereotyping because it dims a person's confidence. "When you give a person the freedom to do what he/she does best, I think that person will excel. Everybody should be given the opportunity to explore," she said. Belinda advised women athletes to "keep loving what you do best and you will be the best."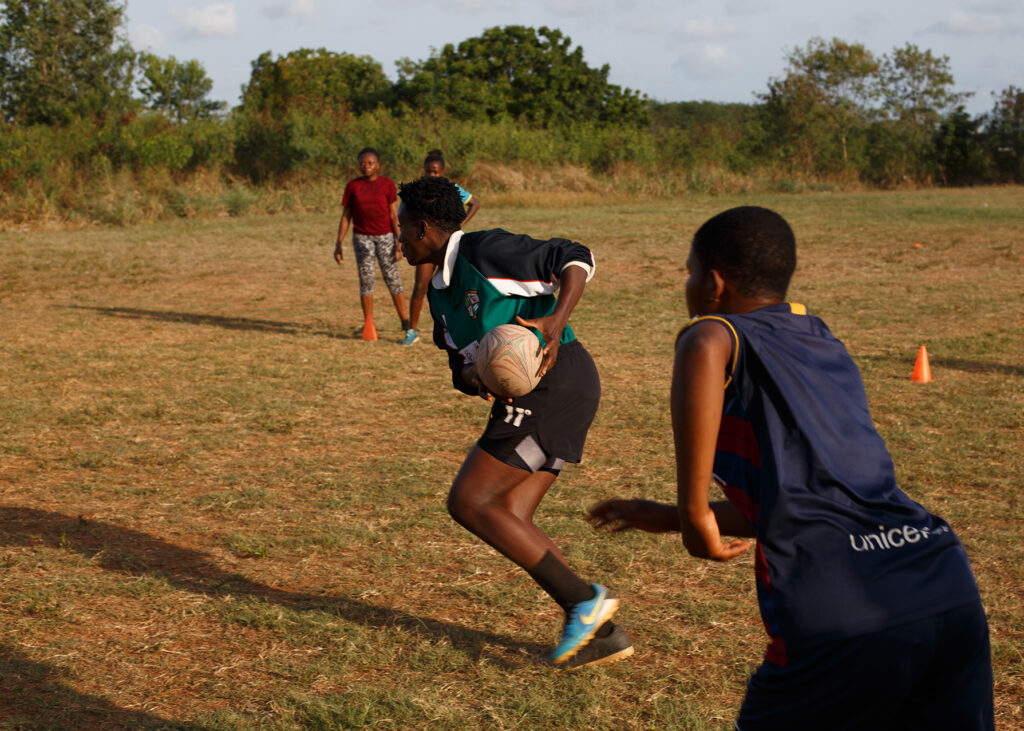 –
Despite the perception of golfers, Belinda Seyram, 27, wanted to explore the sport for herself. "Before I decided to play golf, I often hear people say playing this sport is expensive and it's for old men. People don't want to even try to know if it's true or false. I have actually found out that this is not the case. It's a game that shapes you as an individual. I love the game and that's why I'm still here," she explained.
Belinda said that some people have tried to discourage her with hostile behavior and have spread rumors she is there to flirt with married men. "It's my personal determination that has kept me this far. Don't base your interest on people's perception, if you think you like it, just come give it a try. Let your vision matter and forget everyone else," she said.
–
Bello Masuratu, 26, started playing basketball in 2008. "Most guys say to me, I shouldn't do sports. They think I should be looking sexy in an office, but I ignore them because my parents support me and that's enough," she said. Her message to young girls interested in sports is that "you may encounter people who will always criticize you, but just believe in yourself because playing sports will boost your self-confidence."
–
Claudia Ammadi, 27, started rock climbing a year and half ago. She only recently found out about climbing in Ghana and decided to join for fitness and for the love of the sport. Although rock climbing is not common, she said she hasn't experienced stereotypes. "My thought is for people to just accept sportswomen who are passionate and support them rather than underestimating them or talking about their body and how masculine they are," she said. "Keep going, just focus, and never mind people who speak about your body. Be you and push forward to whatever you are doing."
–
Co-owner of Ridgecity women's football club, Cleopatra Nsiah, 36, said that people are often surprised that she is in an ownership role in sports. "People are shocked that a woman is running a football club. But it's a women football club, who else is supposed to run it if not a woman?" she asked.
"We have tried to get people to sponsor us but we've been unsuccessful, I don't think because I'm a woman, but it's because the team is a women football club. The mere fact that it's a women's football, people think it's a joke, a hobby or fun time a few girls are trying to have. Nobody respects women football especially in Ghana. It's difficult getting sponsorship. But we are not going to stop trying to get it because I'm sure there are people out there who really want to help, so we won't stop until we find them," she said.
–
Doreen Tetteh's initial aspiration wasn't sports. "I wanted to be a military woman, but later discovered my love for football at age 10," she said. Though the 22-year-old has strong support from her parents, some relatives still discourage her. "They say playing sports as a woman doesn't pay, but I don't give my mind to them because I know what I want, and that doesn't discourage me," she asserted.
–
In 2016, Prospera Nantuo, 17, started playing badminton. She's now in the Ghanaian national team. The sport has taught her to be disciplined, she said. "Some relatives have said to me sport wouldn't take me anywhere because I'm a lady. People don't believe we can do much, but we are doing our best," she said. People tried unsuccessfully to convince her that playing sports would be bad for her education. "I have passion for sports and it has improved my thinking ability," she said. Her message to young girls is, "don't let anyone sit on your interest. Just make up your mind and you can do all things."
–
Ramatu Quaye, 25, a boxer in the Ghana national team, started boxing at the age of 10 years. "A friend told me I wasn't going to give birth because of the career path I have chosen, but it isn't true. I had my baby and I'm back to training, and I haven't lost anything. That perception is wrong," she explained. "I will encourage my child to be a boxer when she grows up," she added.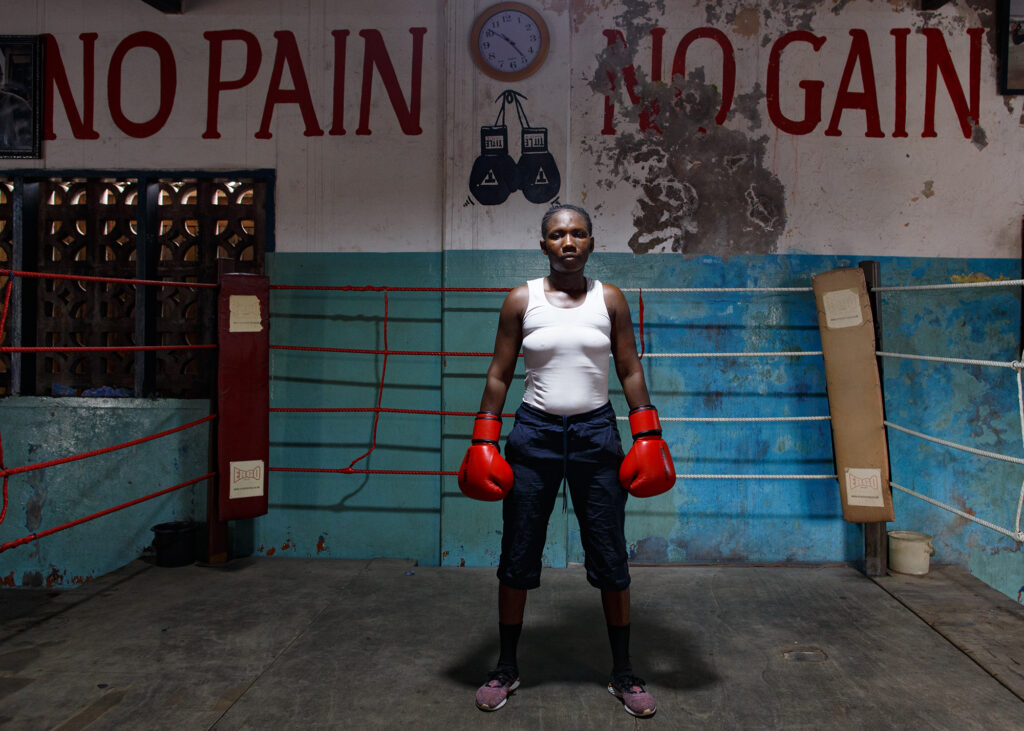 –
"Some people conclude that all sports women are lesbians, especially men whose relationship proposals we reject," said Regina Jessica, a 28-year-old handball player. "Sports would have been lovely without stereotypes, because the fear of being attacked or tagged with names draws people back," she said. Her advice to younger women is to focus if they love what they are doing.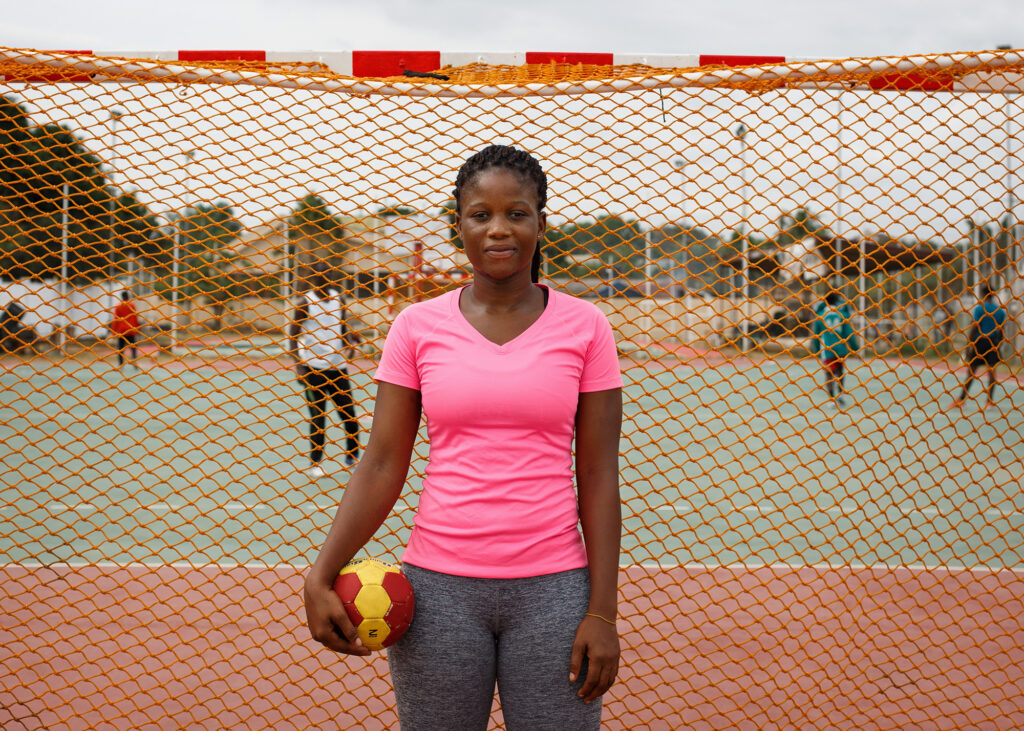 –
Winnifred Ntumi is an 18-year-old weightlifter in the Ghanaian national team. When she tells people she's a weightlifter, sometimes they try to touch her muscles because they don't believe it's true. "Some say, how can a lady be doing this, see how smallish I am, and a lot of stuff. But I don't care about what they say. All I know is I'm doing my lifting and it's my body," she said. She believes the only way forward to end stereotypes is to accept people the way they are. Up-and-coming athletes should "just be you and do what you want," she advised.