By Pelumi Salako
IGANGAN, Nigeria — On the day of his death, December 11th, 2020, Dr. Fatai Aborode rode on the back of a motorcycle with one of his two farm managers, Bolanle Olanrewaju. They were driving to town from Aborode's farm of more than 200 hectares in Igangan, Oyo state, when four masked men ambushed them, hacked Aborode with a machete, and shot him to death.
"When my son got hit and fell from the bike, Bolanle fled the place, leaving him behind. He did not return to his family to inform us, or alert people in town to come to his rescue, as is culture when anyone is being attacked," recounted Aborode's father, Alhaji Folorunsho Aborode.
"My son was there until some people saw the act and quickly put a call through to me," lamented the 79-year-old Alhaji Folorunsho, who wore a striped jalabiya and a white cap, his face stripped of emotion. On the low table between us sat a medium sized radio, a white tesbir, and a box of painkillers. A pile of files gathered dust on a table next to an old television, and a deep sense of grief hung in the air.
Before the day of his murder, Aborode had an altercation with some herdsmen who had trespassed into his farm and eaten some of his crops. According to Adeagbo Taiwo, the farmer's secretary who wrote an agreement between the herders, the police, and the slain Aborode that forbade the herders from entering his farm, "they destroyed a part of his 50 hectares watermelon farm, and when offered a compensation fee of N50,000, he declined, saying he only wants for them to leave the area."
Based on a pattern of violence, the prime suspects in Aborode's murder are the same Fulani herders whose cattle ate his farm. The identity of those four men are unknown, except possibly to Bolanle Olanrewaju, whose refusal to fetch help for his attacked boss points at a potential conspiracy.
Dr. Fatai Aborode "goes out of his way to help everyone who comes to him for help and it is hard to figure why anyone will want him dead. He had invested more than N250,000,000 into his farm," said Alhaji Folorunsho, who would not refer to his son in the past tense. "The plan is to move into the new house he was building for me during this year's Salah. But they have killed him," he said.
Angry youths protest: "They felt the issue was exaggerated"
Aborode was one of the brightest stars of Igangan, an otherwise small, sleepy town in the Ibarapa North local Government of Oyo state, southwest Nigeria. He had completed his doctorate degree in the UK, where he turned down at least two offers from pharmaceutical companies because he wanted to be self-employed.
He returned home for the 2015 general elections, in which he contested for a seat in the national assembly but lost. That was when he started his farm, his father said.
"Since then, he has proved supportive to us, the young people of the town. He provides scholarship to students who are in need, support for farmers. He even gave me a piece of land on which I farm," said Jamiu Ogunyemi, vice president of the Igangan Development Advocate, a group formed by the young people of the town.
One of the group's goals is to find solutions to the herder-farmer conflicts. Ogunyemi told me that on one of their visits to the state secretariat, they realized that the issue was being taken with levity by the state government.
"On the day we submitted a letter to the office of the governor's special adviser on security matters, they said they felt the issue was always exaggerated when they heard it on the news. They asked us to go and bring pictorial evidence of those who have been killed, so that they can believe us." The group did so, but no action was taken.
Aborode's killing rocked the public and finally drew national attention to the herder-farmer conflict that has been ongoing in the area for more than a decade. In the days following Aborode's death, however, there was no identifiable effort made by the government to solve the murder. That is, until Sunday Igboho came into the picture.
Enter Sunday Igboho
Sunday Igboho's real name is Sunday Adeyemo. His sobriquet, Igboho, is taken from his town of origin, Igboho in the Orelope local government of Oyo state. Over the years, he has worked as an henchman, doing underground jobs for politicians in Nigeria. He is now being described as a "grassroot mobilizer" and "Yoruba activist," and leader of an ethnic militia by the Nigerian media.
His traditional powers have attracted politicians during electoral campaigns. On the streets, there are stories and myths of the manifestations of his powers.
"When Sunday Igboho came to visit me, he told me that my son was like his elder brother. They had met during his time in politics and he claims that my son was nice to him and he could not let his death slide easily," Alhaji Folorunsho told me.
Although he begged Igboho to avoid stirring controversies, he had no powers to stop him from acting. Against the warnings of the state government, Igboho gave a one-week eviction notice to the head of the Fulanis of Igangan, Alhaji Abdulkadri Saliu, also called the Seriki Fulani.
On that day, January 15th, Igboho addressed the youths of Igangan, and told them they needed to protect and reclaim the Yoruba land from "the invaders." He would be heard repeating the same message in several videos afterwards.
"There were hundreds of them, and you could hear the earth trembling with their footfall even though they were at a distance," the Seriki Fulani told me of that day. Igboho refused his invitation into the house and instead had a dialogue with him while they stood outside in the presence of the men of both parties.
The Seriki said that some of those in Sunday Ighoho's company, mostly youths of the community, carried weapons. Some Yoruba eyewitnesses also claimed to spot weapons on the Fulani men who stood close to the Seriki.
The Yoruba community of the town consider Sunday Igboho in lofty regards and some feel indebted for the actions that he has taken. Farmer Akintola Olusola likened Sunday Igboho's involvement in the crisis to that of Jesus Christ. Another farmer, Abiodun Adegoke, said that he is like a voice of consciousness.
The pogrom
During the seven-day ultimatum, a worried Seriki consulted with the police authorities, a politician who came with Igboho named Jabele, and the deputy governor, who assured him that there would be no trouble.
After the seven-day notice lapsed, the Fulani had yet to vacate the area and an angry Sunday Igboho returned to the town despite warning from the state government not to do so.
On that day, Friday, January 22nd, angry Yoruba youths burned down the Seriki's house and the Kara, a marketplace where the Fulani and the Bororos trade their livestock.
"After Jumaat, everybody was there gathered because we have a mosque where even Yorubas join us in prayer. Around 2:30-3:00 pm we heard that Sunday Igboho was coming from Ayete (a town close to Igangan) with his entourage," recalled the Seriki.
"It was my children who quickly alerted me that we should leave for fear of our lives. None of us was holding guns, sticks or cutlass as alleged. They killed my only brother and burnt him immediately because he had an accident and can't run. They killed another boy who they met asleep, and four other people. Women and little children were there," he said.
The Seriki's house and the other buildings in his compound were razed to the ground. His cars, a Toyota Venza and Lexus 330, were burnt to ashes. None of the residents I spoke to claimed responsibility or accepted knowing anyone who participated. My guide would not take me to the razed compound "because no one should go there."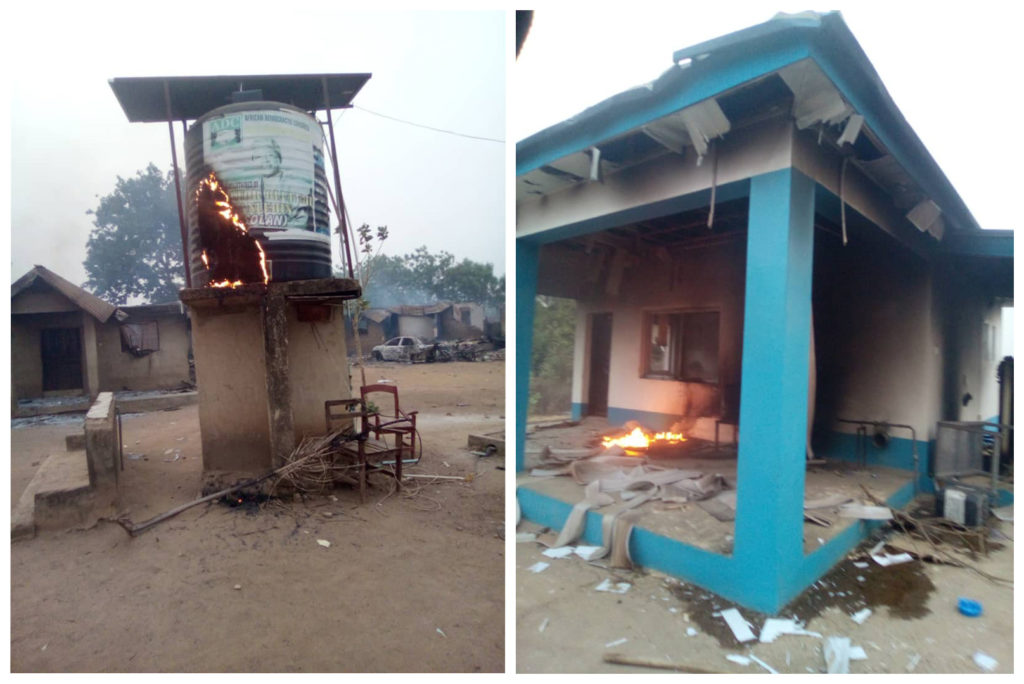 The Yoruba eyewitnesses that I spoke to maintained that Sunday Igboho was not present at the grounds of the carnage and that no Fulani person was killed. Sunday Igboho did not respond to multiple requests for comment. However, the Seriki sent me pictures of the killed men and his burned home on WhatsApp.
Even though Igangan residents agreed that not all Fulani and Bororo herders are criminals, most were glad that the violence took place. "I was happy that it actually happened because they are thorns in our flesh. The youths stood up and used weapons that they could find like sticks and cudgels because they were tired of their continued existence in our community," Abegunde Amos, a retired lecturer and farmer told me.
However, herders still lurk in the bushes. "What can people holding sticks and cudgels do against people wielding AK-47s? How long can you sustain that? Whatever power that comes our way to support this mess, we will welcome it very much," he said.
Patrick Aderoju, a senior statesman and former local government chairman, believes that a blanket approach is erroneous and that only identified criminals should be sent away from the town. "We should try to identify criminals and then arrest them. Those who commit crimes may be an insignificant fraction and even Yorubas too can commit crimes. Identify those who vandalize the crops on the farm and arrest them. Whoever commits crime should pay for it."
"From time immemorial, we have lived with Fulani people and there was never trouble. I do not know when they first came but they have been here as far back as 1949. They used to live in the bushes but later, they migrated into the town," explained Patrick Aderoju Adegbemi, an 85-year-old man who spoke to me in crisp English.
Most Fulanis, he said, are "very cooperative and would not harm the farmers." The heads of the town allocated free plots of land to them when they decided to live in the town and time has naturalized them, integrating them into the culture of the town. Some of them cannot be recognized as a Fulani, and others have dropped their pastoralist leanings for simple farming. "We call them 'Fulani Baku' or 'Fulani Ile,'" a Yoruba phrase which means 'Home/Town Fulani,' Adegbemi explained.
Underdevelopment
Igangan is on a wide expanse of land that serves its nearly-total agrarian population. It's neighbored by six other towns, together which make the seven Ibarapa towns, a federation of towns connected by an historical kinship.
Insecurity in northern states, the sluggishness of security units to respond to situations, the presidency's silence on the issues, climate change and desertification taking over the northern sphere of the country, have pushed the herders south in search of safe, stable land for their cattle to graze. Igangan is one place among many that some herders have ended up.
Almost everyone in the town is a farmer, and even though some of the townspeople practice other ventures, they soon circle back to farming. Those who do not actively live in the town have farms which are being looked after by their family members or paid workers.
Due to austere economic conditions, there are very few mechanized farms, and most farmers rely on migrant laborers from the republic of Benin, Togo, Ivory Coast and men from the Ebira and Agatu ethnic groups of Nigeria. Farmers who cannot afford to pay for farm hands are conditioned to practice subsistence farming even though they own several hectares of unused land.
There is no bank branch in the town and so people must journey to neighboring towns when they need to use one. Sometimes, residents enjoy only ten hours of cumulative electric power supply in a month.
This abysmal supply of electricity and the chronic absence of a bank has given prominence to new business ventures. Some entrepreneurs have opened centers, usually a small stall, where people can charge their cell phones for a fee, and others help people transfer and withdraw money using a POS machine for a fee of N30 ($0.08) per N1000 ($2.62) to fill the utility gaps.
For several years, a standard hospital has remained out of reach of the people of Igangan. Except for the primary health centers who can treat only minute injuries and illnesses, there are no other hospitals. Sometimes, when minor cases are brought in, the health workers announce a lack of basic clinical materials. "Sometimes they tell us that they do not have stitching lines to be used in suture," said Akintola Olusola.
Igangan residents must rely on the hospitals at Igbo-Ora and Eruwa, both 34 and 55 kilometers away respectively. Due to the nature of the injuries sustained in the attacks, most of the people injured in attacks lose too much blood to arrive at those hospitals, "and they end up dying on the way," Akintola said, adding that that they can no longer count the number of people who have died in this manner.
Dr. Fatai Aborode was one such victim. "When his brothers went to withdraw him from the spot of the attack, he was still breathing, and he begged them to take him to a hospital. The local hospital here rejected him and they took him on a motorcycle bike but he died on the way," his father said.
In 1976, the Bola Ige-led state government commissioned a 60-bed hospital structure, which was abandoned before completion. Since Nigeria's return to democracy in 1999, every gubernatorial aspirant in Oyo state has promised to complete the structure, but none has done so.
More than a decade of crisis
Adeagbo Taiwo, the farmers' secretary, laid several documents and photographs on the white plastic table between us after settling down under a shed at one of the three hotels located in the town, the visible creases on his forehead dilating. The papers were evidence of attacks by the nomadic herders in the town and its environs, he said.
Taiwo became the farmers' secretary of Igangan in 2010, shortly before the commencement of violent clashes between the herders and farmers. Over the years, he has meticulously documented the horrific violence in the town. It's a role he took on for himself, The documents comprise copies of petitions against the Fulani ethnic group and vice versa.
In some pictures, people are seen killed on their farms, impact of machetes evident on their head and other body parts. One subject's head had been hacked diagonally and the sight made one's belly rebel. There is another in which two kids not more than the age of six lay dead with bullet wounds to the head. They were killed in a robbery operation orchestrated by Fulani men, according to Adeagbo.
There are pictures of survivors of attacks with varying degrees of injuries. There is a man whose entire head, including his face, was wrapped in bandages. Between January and July of 2019, eight women were raped by herders, and some were cut with machetes, according to a document shown to me by Adeagbo. The number may even be higher because some women might have concealed their ordeal to avoid stigmatization.
Beginning in 2013, there has been a continuous exchange of violence between farmers and herders. Cases of kidnapping were not prevalent until 2015, when the incumbent national government came to power and other crimes like highway robbery began to jump into the picture. Adeagbo told me that these crimes are primarily committed by people of the Fulani and Bororo tribes.
"Some farmers would be tied by the herders and made to watch as cows eat up their hard work. Others will be made to decide between dying and keeping their farms," Adeagbo said. The victims would usually pick the former and those who attempted heroic moves were murdered in cold blood, he said.
According to Adeagbo, this persistent violence led to a growing disdain for the Seriki Fulani among the Yoruba indigenes of the town, who accuse him of using his political and ethnic connections to cover up the crimes of Fulani criminals. Adeagbo showed me images of some people he claimed were killed close to the Seriki's residence, including one in a robbery attack and another for ritual purposes.
Debt and exile
Abiodun Adegoke's primary occupation is farming, which he described as "the occupation of my fathers." In his sparsely decorated sitting room, he told me that he has up to 300 hectares of land on which he practices farming. He has been unfortunate to be a victim of criminal herders across his business endeavors, leaving him on a hill of debt.
"Since 2015, I have had no peace of mind. The herders have decimated my farms up to four times and this is why I am in debt. I languish in the debt of up to N20,000,000 minus the climbing interest at the microfinance banks. I am also owing my farm workers."
Last year, Abiodun lost his stock of harvested maize in a fire started by a group of herders that he chased away from his farm some days before, he said. "Their cows ate my harvested maize while we waited for the shredding machine and when they were done, the herders set fire to my barn."
"During the same harvesting season, over 20 hectares of my cassava plantation was eaten. Till now, no justice has been served. In 2019, an entire farm was finished. Those who did this still walk freely without being punished," said Abiodun.
"Compared to the others, my own story is a light one," recounted Abegunde Amos, a 79-year-old farmer who is a retiree in the state civil service. "Some people have lost their lives, and others injured. I can no longer go to my farm for fear of being killed. If I ever need to, I must go with some young men. Our wives and daughters dare not step into the farm," he said, his hands shaking with anger.
On a section of his farm, Abegunde has cashew trees which produce seasonally with little to no supervision. A few days before my interview with him, he contracted a local woman to pick cashew nuts on his farm. He told me that when she got there, there were cattles eating the cashew and swallowing the nuts.
"She had to run back to the village to avoid getting attacked. Someone who lives on cashew nuts can no longer get anything. No food and no hope of a better tomorrow," he said.
Police incompetence and corruption
For as long as Igangan residents can remember, the police who deal with farmer-herder disputes appear inherently unfair, inspiring a deep-seating distrust among the farming community. "Most times, the police who are meant to uphold the law are those who set it aslant," Akintola Olusola, 44, a mechanized farmer.
Police almost never make an effort to have reported herders arrested or interrogated, residents said. Some speculate that this is because they are afraid of the political connections that some of the herders enjoy.
It is hard to not think that the government agencies support them, said Abegunde Amos, because there is hardly any time that a farmer returns from the police station feeling that justice is served. "Most times, the Seriki Fulani only has to do as much as making a few calls, after which the offender will be freed."
On October 15th, 2018, Akintola was sitting under the shade of a tree when he was attacked on his farm by two Bororo herders. It was during the harvesting period, so he went there to supervise his farm workers but on getting there, they had unearthed too much cassava, so much the truck could not carry all.
"I volunteered to stay back to watch over the harvest alone and at about 5 pm, I saw this Fulani herder leading his cattle into the farm. I approached him and explained to him that this was a farm and more so, we had fresh cassava close by. His response was that his cows do not eat cassava. Before I could even say more words, the cows were already eating the harvest."
"Because he would not redirect their steps, I tried to shoo the cows off. Before I could get any to stop eating the cassava, the herder, a boy, was already using his machete on me." The machete did not cut Akintola because he had traditional fortifications that protected him from blade cuts, he said.
Unknown to him, the herder had a partner who was hiding in the bush. "The partner attempted to hit me in the head with his herding rod but I deflected its impact with my left arm. My arm broke and I became paralysed with pain instantly."
Injured, outnumbered and recognizing that they could strangle him to death, he took to his heels. He got help and sooner had he reached town, he went to report at the local police station. They took his statement with his broken mark and machete marks still evident on his body. Afterwards, he went to the clinic.
Days later, the local police at Igangan had not made an arrest of the culprits. This prompted him to file another complaint at the Area commander's office at Eruwa, 55 kilometers away. The officers at Eruwa who required a fee to fuel their van came on a Kara market day to arrest the offender but their kinsmen refused for them to be taken away, surrounding the men in uniform and threatening them with violence.
"Later, the boy's family attempted to pay me a bribe of N80,000, which I refused on grounds that the boy must be present to tell me why he attacked me. They never presented the boy," Akintola said.
After some time, Akintola spotted one of his attackers in town and arrested him with the help of the local vigilante. He remanded him at the police station but before he got to the station on the following day, the police already freed the boy. They began to ask him to prove that the boy was his true attacker. In the end, they told him that the boy had died and as such, the case must be closed.
"The place is like a home to us"
Alhaji Saliu Abdulkadri has served as the Seriki Fulani of Oyo State since 1992. He has lived in Igangan since 1969, when he relocated to the town with his grandmother. "We are not saying that Fulanis are not criminals, we are not disputing that fact, but there are also criminals among Yorubas," Abdulkadri asserted to in a phone interview.
Sometimes the Yoruba farmers would apply poisonous substances on grasses so that as the cattle graze, they die, he said. When this happens, he calls and reports it to the police, and this is what he describes as the origin of his problem with the people of Igangan. "They could not handle having a stranger call police to arrest them in their land."
"Sometimes when non-criminal cases happen between herders and farmers, they bring it to my palace to be settled without fear or favor. Even some Yorubas bring their conflicts down to my place and I settle it for them," saying that he never turned anyone away regardless of ethnic identity.
The Seriki has been accused of receiving ransom payments paid to kidnappers, a charge he dismissed as "unfounded claims." He told me that some of the pictorial and video evidence brought against Fulani herders happened in countries like Mali and Burkina Faso. He said that there is no similarity between the Fulanis and the Bororos. "The only similarity is in the job we do."
Alhaji Saliu claims to have no links to Iskilu Wakilu, a Bororo living in Ayete, a village close to Igangan, whom the farmers' secretary told me was a notorious kidnapper. "There is no correlation between us. They should not call my name with him."
"Any Fulani who kidnaps anyone does not have cows. How can you leave your cows and start kidnapping people. I do not know how that is possible. To my knowledge, the kidnappings happening in Igangan are few, compared to other places. Why I am being accused is that they are afraid I will bring an emirate to Igangan. This is their fear," he said.
They are up to 2000 people living in and close to his settlement and some of them are presently displaced. At the settlement, they had a veterinary clinic where they treat sick animals and a milk collection center. Now the Seriki is in Kwara state, the state of his own origin, after fleeing Sunday Igboho's ethnic eviction.
After spending more than five decades in Igangan, he sees the place as home. "My first born was born there in 1972. All my children were born and brought up there, I am the only one who can tell you that I am from Kwara state. Some went to their higher Institutions in Oyo state. Their state of origin reads Oyo state," he said.
When Alhaji Saliu's house was attacked, he and his children fled, leaving everything behind. The burial post of his grandmother, father, mother, an aunt and the mother of his first wife who were buried there remained along with the destroyed compound.
"I am 78 and I started working at the age of 10. I have lost everything I worked for. Some of my children have debts hanging on their neck. I accept it as a will of God. I am calling on the government to investigate this matter to a logical conclusion," he said.
When the youths angrily razed the Kara to the ground, they did not consider the economic challenges that it would pose to a section of the town's economy, as people who depend on the Fulani and Bororo for patronage lost their customers.
The Kara market operates Mondays and Thursdays and at least 1000 people attend market day, according to residents. Alhaji Kabir, a portly man of 45 who retails airtime vouchers at the Kara told me that he made from N40,000 to N50,000 on each market day, and with this money he supports his family of three wives, eight children and extended dependents.
Now that the Kara was no longer in existence, his finances have taken a hit. "The market has not been moving and it is really hard because I have to look after my family," he said to me at his unlit front yard where I interviewed him.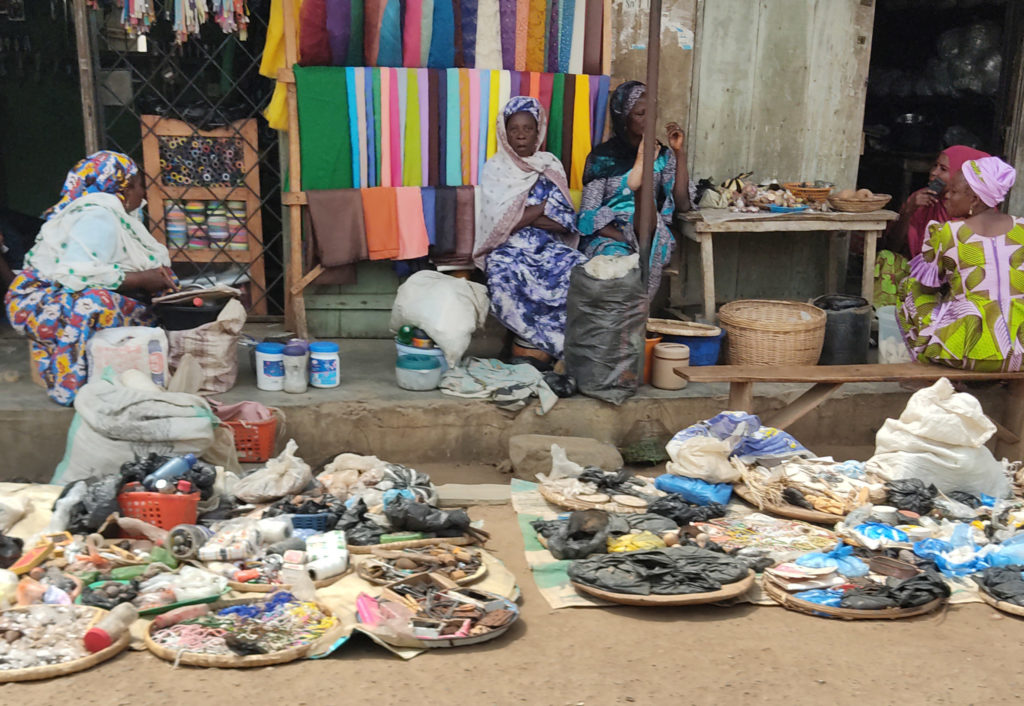 A national problem
The situation in Igangan is a microcosm of the larger farmer-herder conflict in Nigeria. In 2018, Crisis Group wrote that the rising conflict between herders and farmers in Nigeria is six times deadlier than Boko Haram's insurgency. The country's gravest security challenge, the conflict killed 3,600 people between 2016 and 2018 and has displaced at least 300,000, according to Amnesty International and Crisis Group. The majority of those killed and displaced are farmers.
In order to prevent the persistent clashes between the herdsmen and farmers in various states, state governments have enacted laws that seek to tackle open grazing. Benue, signed its open grazing prohibitions and ranches establishment law as early as 2017, and Ekiti, and Taraba states are also leading parties.
Oyo and Ondo states have recently taken likewise actions. After the Oyo state government signed its anti-open grazing law, the Fulani association filed a lawsuit to challenge the passing of the bill. The absence of a federal order prevents easy application of these laws.
The inability of farmers to be able to go to their farms has rendered many who usually have much to eat, starving, and some schools have had to close as a result of the frequent attacks on their communities. In hard-hit states like Benue and Taraba, governments are unable to essentially cater for those who fall into this category, even at the IDP camps.
Crisis Group reports that women and children are the hardest hit being that they have lost the patriarchal male figures who make provisions for home and other needs. Many of them have been conditioned to live with family and friends, and those who do not have that privilege must shift to living new, subaltern life at the camps.
Since the government has not responded proactively, locals attempt to defend themselves using vigilantes or ethnic militias. Many times, the acts of defense from locals spur the herders into reprisal attacks. For example in 2018, about 72 people were murdered in a string of coordinated attacks in Benue state now known as the "New Year Massacre." The attack was seen as the herders' response to acts by some ethnic youths and a protest against the anti-open grazing bill passed by the government in the previous year.
The federal government's refusal to take preventive steps during the early stages of the conflict has emboldened some of the herders. Benue Governor Samuel Ortom stated that in late 2017, he sent several letters to President Buhari and federal security chiefs to inform them of the threats posed by the herders, but he received no response. The presidency claimed that it did not receive any mention of specific threat to the Local Government Areas in Benue and the police chief claimed to not have received the information.
Crisis Group wrote that even though the warnings may not have provided precise actionable intelligence, they appear to have been sufficiently clear that, had the police followed them up rigorously, they may have prevented some of the January 2018 attacks.
The protracted conflict encourages more civilians and militias to gather ammunition, a further threat to Nigeria's paperweight defense line. It has also sown distrust in the capacity and dedication of the security forces. There are more kidnappings on the expressways and in the country's north than ever, as evidenced by the recent trend of mass abductions of school children, who are released in exchange for millions of naira.
Government complacency
The President Buhari-led federal government has grown unpopular for the silence with which it approaches the herder-farmer situation rife in the south-west, south-south and some part of the middle belt of the country.
Many Nigerians believe that the president's role as the Grand Patron of the Miyetti Allah, the national association of cattle breeders in Nigeria, and his ethnic relations to the Fulani whose primary occupation is cattle rearing, influences the presidency's reaction.
When asked during his meeting with former U.S. President Donald Trump in April 2018 if the herders carried guns, President Buhari said that the herders carried only sticks and cutlasses to clear road paths in the bushes. However, Nigerian media and farmer accounts show that some of the herders are armed.
In February 2021, Governor Bala Mohammed of Bauchi State told Nigerian media that herdsmen have a right to carry guns so as to protect themselves, and that they have a right to reside wherever in the country as backed in the constitution.
Professor Samuel Aghalino, a professor of history at the University of Ilorin, believes that the government's impudent evasion of the matter makes it appear complicit. He noted that each time trouble ensues between the farmers and the herders, the government will neither condemn the act nor deploy law officials to take action, but are quick to warn the victims not to take matters into their hands.
"In a nutshell, the coming to power of President Buhari would seem to have embolden the Fulani, who until recently were not really troublesome. Because the security architecture is in their favor. Since they started with the destruction, and their metamorphosis into kidnappers, bandits, armed robber and hostage takers, none has been arrested. None has been tried. A few have been arrested only for photographic effects," he said.
Lawyer Chima Osuji told me that the law is silent on the approach to be used by the government during crises, but conventions have made it clear to know how a sitting president ought to respond to issues of national importance. He highlighted section 14 of the constitution, which speaks about how security must be prioritized: "If you have a government that is awake to its mandate, it means when there is a serious problem, the president will do away with whatever form of style he has to address the country. I think the approach so far is irresponsible."
The place of the constitution
Some people believe the Nigerian constitution is rigged to favor the herders. "The main problem has always been the constitution. It says that any Nigerian can live anywhere, forgetting that this also attracts responsibilities. If you live peacefully wherever you choose, nobody will have the right to ask you to leave the place," said Patrick Aderoju. However, Chima Osuji argues that the constitution is sufficient because it also provides for the punishment of criminal offenders.
In 1964, the federal government passed the Nigerian Government Grazing Reserve Act, which was put in place to enable pastoralist Fulanis access to grass, vaccination and water for their herds. Many of the herders defend their contemporary movements using the provisions of this act, and often abuse it to justify decimating farmlands, some farmers say.
This law is still in place but has become "obsolete" according to Chima Osuji. "It is still there because our lawmakers lack the sense of urgency or political will. Laws should be a reflection of current realities. If a law no longer suits the people, it is incumbent on the lawmakers to act," he said.
In May 2019, then-minister for agriculture Audu Ogbeh announced that President Buhari had approved the Rural Grazing Area Plan (RUGA), a plan through which the federal government sought to settle the traditional nomadic cattle herders. Under the plan, each state allocates some land for the permanent settlement of nomads.
Distrustful of the plan's motives, some people in western and eastern Nigeria rejected this move, deeming it an ethnic plot to 'Fulanize' Nigeria. In states like Benue, where herder atrocities are even more prominent, people staged protests for days. In the end, only very few northern states showed interest or complied with the plan.
Professor Samuel Aghalino said that the history of Fulani conquest and expansion under the Sokoto Caliphate has led to a deep-rooted skepticism that extends to the RUGA rejection.
Many see RUGA as a potential conduit of violence, including Prof. Aghalino, who called it a "recipe for conflict." He explained that many people think RUGA is a way for the government to provide free land for herders rather than let them acquire land to practice ranching through private enterprise.
"What the government can do is to provide incentives and maybe loans to buy lands or purchase fodders. It is not the government's business to say they want to give free land to the herders. How many private enterprises are they going to assist in that way? How many Igbo people have you assisted to establish their business in Kano? Will the government also set land apart for those who rear pigs to go and start business in Sokoto? The RUGA cannot work," Aghalino said.
Chima Osuji holds a countering view. "Under the land use act, the government can acquire land for the use of public interest as dictated by law, the government has the right to do that. What public interest means to you might not be what public interest means to me," he said.
The likelihood of a civil war
The herder-farmer situation is gradually snowballing into something wider, and the possibility of a national conflict looms on the horizon. In a recent interview with BBC, Nobel laureate Wole Soyinka, whose home was recently invaded by some herders, spoke of the eventuality of a civil war, should the situation be mismanaged.
"What do they expect of us now that this war is on our doorstep? Of course there has got to be civil mobilizations and if we keep waiting for this to be centrally handled, we are all going to be, if we all are not already, slaves in our land. That is intolerable to me. And whatever it takes, I stand ready to contribute in any way," he asserted
The Miyetti Allah and individuals like Sunday Igboho have traded incendiary and escalating remarks targeted at the Fulani herders and traditional rulers & politicians of Yoruba descent.
Igboho has called for the Yoruba states to form a new country, Oodua Republic. He has promised to shoot politicians who employ his services in the next election, including Bola Ahmed Tinubu—the national leader of the ruling APC party, who is tipped to run for president in the next election—should they fail to find a solution.
Nigerian media reported that the Department of State Security Service attempted to arrest Sunday Igboho while he was travelling on the Lagos-Ibadan expressway to see the chairman of the Yoruba Group, Afenifere, on February 26th. This attempt was foiled by the interference his supporters, whose show of force against the authorities was a testament to Igboho's growing power.
Igboho's ethno-nationalist project is also gaining acclaim on social media and among some politicians. Senator Dino Melaye, Gani Adams and other people including the exiled leader of the separatist Biafra, Nnamdi Kanu, have shown public support for him.
"We may enter a phase of serial skirmishes. More and more violent and become less and less focused. It may develop into a civil war and become untidy. Sunday Igboho has responded to the situation in the way he knew how. Now you will see that he is trying to work without us," Soyinka said.
Benue state Governor Samuel Ortom has requested that the federal government legalize the possession of firearms. There are unconfirmed reports that citizens are secretly gathering arms in preparation for a full-blown conflict, portending a potential state collapse.
Incisive action
If there will be a solution to this problem, the government must swing into incisive action. Professor Wole Soyinka expects that the solution starts from the president, who must address the nation and make his stance on the situation clear.
"The president should address the nation in unambiguous terms. Say openly: I know that I may be the patron of the cattle rearers' association, I am a cattle rancher myself and I run my business on business terms. I do not run my business by killing people, by raping, by displacing, by torturing, by occupying land that does not belong to me," Soyinka told the BBC.
For long, even the herders rejected government and private advances to curb the recurring conflict with ranching. Now, the herders appear to be getting tired of the traditional nomadic ways of rearing cattles. On March 10th, 2021, Miyetti Allah in Ondo State told Nigerian media that they are tired of open grazing.
The Seriki Fulani, Alhaji Saliu, said that cattle rustling is a dangerous job that many would be happy to abandon if given the right incentive. Some herders drive their cows from state to states across the country, making sojourn only in the bushes where they are exposed to harsh weather conditions. They are at risk of dying from snake bites, lack of food and attack from farmers. "Who wouldn't be happy to have a place to camp their cows?" he asked.
The Seriki also called on the government to find a lasting solution, or violence will conitinue to escalate. "We are not against ranching or anti-open grazing laws. What we are telling the government is that if you ask us to do fencing for the cows, where are we going to get the land? The natives have said they will not provide land for the Fulani man. Even if you want to buy land, they will say they will not sell to you if you want to rear cows on it. What do you want us to do?"