By Hauwa Shaffii Nuhu
KAURE, Nigeria — On April 26th, 2021, Boko Haram terrorists invaded Kaure town in Niger state, killing scores of people, kidnapping women, and causing many others who survived to flee the towns for Minna, the state capital. According to Niger state governor Abubakar Sani Bello, they hoisted their flag, signifying the town was under their control. Over 50 communities in the state were attacked in the following days. It is still unclear who the perpetrators of the subsequent attacks were.
For the past three years, residents of the state had raised the alarm numerous times on social media over an increased inflow of armed nomadic people into the town who were possibly smuggling arms.
"We were talking about it because though they were Fulani people, you could tell they were not Nigerians. And they were always armed," Mundi*, a resident of Erena town says. The residents were concerned that they might in time constitute a security threat, but the alarms went unattended to by security officials. "Now, Niger state has become something else." Mundi said.
Days before this invasion, kidnappers broke into Greenfield University, Kaduna in northwestern Nigeria, kidnapping 22 students and staff. Kaduna governor Nasir Ahmed El-Rufai announced that the government would not negotiate with terrorists nor pay ransoms. So far, five of the kidnapped students have been killed by their captors and 12 have been freed. The kidnappers have announced they will kill the remaining students if their demands are not met.
Gunmen continue to attack and kidnap people in Imo state, Ogun state, and other southwestern and eastern states. There has been a security breakdown all around the country, from the north central region, to the northeast, northwest and the south. The country seems to be falling apart, and though various calls for secession have sprung up, they are misplaced because the problems plaguing all regions of the country are similar.
Growing insecurity
These cascading violent events are perhaps the most recent inspiration for the heightened calls for a secession by several groups in the country, such as the Indigenous People of Biafra (IPOB), who represent a sect of Igbo people who want to secede from Nigeria to form an independent nation, Biafra. Similar attempts in 1967 led to the Nigerian Civil War, where millions of people were killed, with Igbos suffering the most casualties.
Another group amongst some Yoruba people of the southwest also clamor for the chance to create a breakaway nation, the Oduduwa republic. Many groups perceive this as a solution to the general breakdown of security in the country, but ultimately it is not a viable fix.
The foundational problem is the failing governance that underlays the growing insecurity and rudderless state of the country. This is especially pertinent when considering accusations that the army, who the state relies on to constitutionally and competently address insecurity, is under-staffed and under-armed to fight terrorists.
Senator Ali Ndume, chair of the Senate army committee said on BBC Hausa on April 27th, 2021, that scores of Nigerian soldiers were killed by terrorists who overpowered the Nigerian army with powerful weapons, while Nigerian soldiers struggled with inadequate manpower and ammunition. It was a claim that gained credence barely 24 hours later, when Sahara Reporters reported that the Boko Haram had released pictures showing their newly acquired armoured tanks and vehicles, seized from the Nigerian army after a successful ambush, showing that these successful operations against the army were further under-arming them.
President Buhari raised the specter of the Civil War in a Twitter post on Tuesday that many deemed "outrageous" and dictatorial. He wrote, "many of those misbehaving today are too young to be aware of the destruction and loss of lives that occurred during the Nigerian Civil War. Those of us in the fields for 30 months, who went through the war, will treat them in the language they understand."
"I think the problem is each region also makes the claim of being a monolith. North, Hausa-Muslim. West, Yoruba-Christian. East, Igbo-Christian. But that's not the reality. After separation, it will still be the same issue, the other tribes in the north, where do they stand? There are only seven pure Hausa speaking states in the north. If you look at it, every region is a microcosm of Nigeria, so it will be the same issue all over again," explained writer and linguist Sada Malumfashi.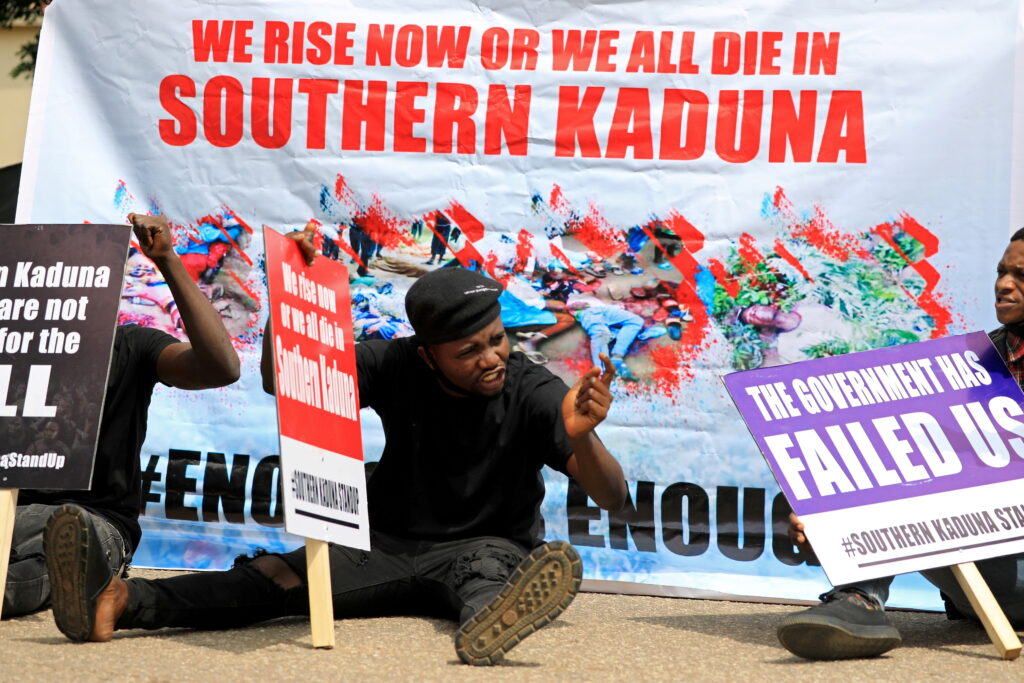 Some Nigerians have argued that the amalgamation of what was then known as the southern and northern protectorates to form Nigeria in 1914 by Frederick Lugard should never have happened. In this viewpoint, the terrorist attacks in the northern region are seen as a northern problem and not a Nigerian problem.
Linguists have warned that the language used in national discourse is a driving force that fuels this othering, which in turn reinforces the claims for secession. For example, "northern Nigeria" should not even be a phrase, according to scholars like Sada Malumfashi, as it further segregates and suggests that northerners are not Nigerians, or that it is a different country, like South Sudan. The effect of this othering language, as in the case of Sudan and South Sudan, is the belief that a split between the regions will prove to be a solution, even though such a split would not address the root problems.
Christians who live in the Muslim-majority north are also othered by language, especially on the basis of ethnicity. This is present and widespread even within Nigerians of the same region and religion. Some of the Hausa IDPs in Minna reportedly objected vehemently to being camped in the same shelter as the Fulanis among them due to ethnic profiling, even in such dire situations.
The secession sentiments are further fueled by other existing conflicts between the regions, such as the over a decade-old farmer-herder conflict in the southwestern part of the country and in the middle-belt. Even this is rooted in inadequate governance, as the government has done little to nothing in addressing the conflict.
Anti-growth policies
Apart from security problems, the Nigerian government has long shown what many have described as a disturbing amount of anti-growth policies, like the inadequate NIN registration process, a ban on cryptocurrency transactions, and other laws that frustrate advancements by the tech industry.
Ibrahim*, a tech engineer working in Nigeria, cites Twitter's choice to launch a physical presence in Ghana instead of Nigeria as an indictment of Nigeria's insecurity and the government's anti-tech attitude.
"People in the tech ecosystem in Nigeria had laid a lot of groundwork and put in so much work in the tech space to make it possible for Twitter to be able to open an office in Nigeria. Jack had even come to Nigeria — he was going to spend months here but for the pandemic — but thanks to the insecurity, Twitter eventually chose Ghana over us," Ibrahim said.
Ibrahim explained that that the government's massacre of #EndSARS protesters has stopped tech companies from investing in Nigeria. He said that the potential employees of international companies opening branches in Nigeria are the same people under direct attack and undue scrutiny by the country's police and army.
Police brutality and citizen extortion have been meted out on young people in tech in Nigeria, especially by the allegedly now defunct SARS. Young people who own laptops or sophisticated phones, or "generally look like they work in tech," are often antagonized and exploited by the police, with accusations of being fraudsters, he said.
"Because tech is a really global phenomenon, to grow it in Nigeria we will need lots of international collaborations. But these international companies will not come here if the environment is not enabling," Ibrahim explained.
The government's directives to these issues are often given with no logical explanations, leading many to believe that it cannot competently hold the country together for much longer.
Secession is already underway
A problem more urgent than breakaway republics, however is that a violent and involuntary secession is already underway in places like Niger state, where over 40 communities have reportedly signed peace agreements with criminal and terrorist groups.
These agreements stipulate that residents provide money, motorbikes and supplies in exchange for safety and permission to farm on their own lands. These supplies are then used by the criminal gangs to attack other communities who have not signed these agreements, further plunging the nation into more chaos.
Residents reported to BBC Hausa that the pact seemed the best option for them as the terrorists would kill them anyway and get away with it. In places like Shiroro local government area, residents now pay taxes to gunmen for permission to live, as well.
"They started by packing all their cows away, community by community, then they started asking them to bring money — I'm talking of millions — then having done that, they started going house to house, kidnapping people," Dahiru*, a resident of one of the most affected areas in Shiroro local government, recounted. "After that, people fled the communities. It was those who were brave enough to return that were now taxed and told to pay an amount of money periodically, to be allowed to be living in their houses," he said.
However, even after paying the taxes and providing supplies to them in exchange to live in their houses, they still get attacked and robbed.
"Right now, as I'm talking to you from this our axis here in Gurmana, right down to Manta, you cannot find anybody living there again, they have all abandoned their houses for the criminals because they cannot continue to live in trauma and fear of death threats like that."
Still, asked whether a voluntary split in the country would be a better idea as expressed by some people, Dahiru* seemed surprised by the question as though it was not even an option. "No, no, no. We can't split, we need to collectively fight this terrorism so we can go back to living peacefully."
*Names with asterisks have been changed to protect the identities of the persons quoted.